Maps and travel                                                                                
By plane
Travellers can fly to Verona or Innsbruck and then take a train or a bus connection.
The airports of Milano Malpensa (MPX), Venice (VCE), Munich (MUC), Bergamo (BGY), Treviso (TSF) are also viable choices.
By car
Brennero Motorway A22, exit "Bolzano/Bozen Nord" or "Bolzano/Bozen Sud" (check traffic conditions on INFOTRAFIC)
A-road 12 (Strada Statale 12 del Brennero): from Verona/Trento (south) and from Brennero/Brenner (north, Austria)
A-road 38 (Strada Statale 38 dello Stelvio) from the Resia/Reschen Pass (Switzerland)

Freeway MEBO (Superstrada 6 Merano-Bolzano): from Merano/Meran to Bolzano/Bozen
The most convenient car-park is in Piazza Verdi/Verdiplatz: "Parcheggio BZ-Centro – Parkplatz BZ-Mitte": from the motorway exit, follow first the signs to the city centre, and then follow the explicit signs to the car park.
By train
The town is served by Italian, Austrian and German train companies:
Getting around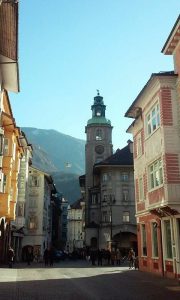 Bolzano/Bozen town centre is not big, so the easiest and most pleasant way to discover it is on foot: most places of interest are located in the centre, and if you have time to spare you could also take a guided walk. Other good options are biking and using the public transport system.